Rose Colombo (c) 10/14/2019
The message below is important to all Americans who are fighting back to save our country's Constitution, Sovereignty, God, Capitalism, Freedom, Rights, and Liberties from domestic and foreign enemies inside our nation and outside. It appears America is in an undeclared war of the dark side of evil vs. the good side known as the "Light." The Americans who support the Left should beware that their representatives are violating their sworn oath to uphold the the U.S. Constitution and Denying a fair and just hearing to the President of the USA and the American Legal Citizens which won't be forgotten.
Photo credit – bbc – Nazi concentration camps for children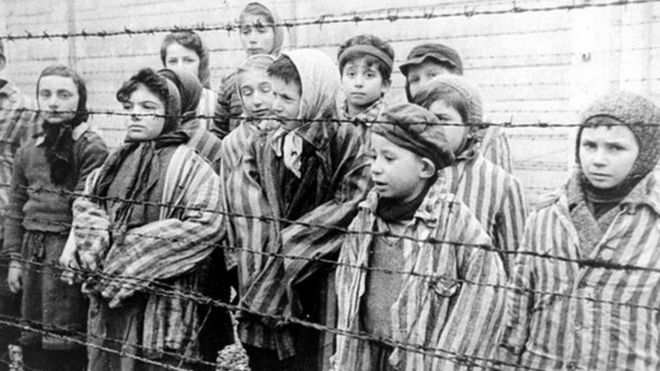 'Maximum Pressure' on Iran…or on the First Amendment?
Dear Friends of the Ron Paul Institute:

Early this week I received an invitation to participate in the "Debate" program on Iran's English language PressTV television station. It is a little like RT but with a smaller budget. At the time, the Turk invasion of northern Syria seemed inevitable (and in fact it began just as the program was airing) and I discussed the situation on a panel with a political analyst from Istanbul.

My philosophy regarding media requests is that I am very happy for the opportunity to speak out for peace and non-interventionism wherever I am invited. RT? Sure. US networks? I am happy to do so but holding my breath for the invite could prove fatal. US government media? I've done Voice of America within the past year and I'd be happy to appear again anytime. I consider it an essential part of my job to preach peace, prosperity, and non-interventionism wherever I am welcome to do so.

This approach opens us up to the attacks of those who have no coherent argument against our philosophy but can only counter with, "you went on RT; you are in the pay of Putin!" I'd almost like to invite such people down to our HQ in Clute, TX – an old metal building with a dodgy air conditioning unit – to dispel such absurd notions. But still they would not be convinced. They need to be able to cling to something to explain away the power of this non-interventionist message, so they do their best to write it off as the product of corruption.

The US government, controlled as it is by the neocons and interventionists, is also in the business of demonization. But, being government with all manner of levers at its disposal, its efforts to silence this non-interventionist message is rather more sinister. As RT expanded its audience, with Americans becoming more and more interested in hearing their fellow citizens whose opinions you'd never see on the mainstream media, the US government swooped down and demanded that the channel register as an agent of a foreign power.

Are we agents of a foreign power for opposing the foreign policy of the US government? This is the way of thinking that dominated communist Europe for decades. The Party was always right, guided as it was by the inevitable and undeniable march of history. Any foreign policy position put forth by The Party was by definition the correct foreign policy. So anyone who disagreed was also by definition incorrect and a "wrecker." When The Party is by definition correct, any deviationist must be punished and any deviation must be disappeared.

Yes, but the extreme measures of Stalinist East Europe could never find fertile ground here in the land of the free.

Don't be so sure.

So, right after I participated in the PressTV debate, expressing the view that I repeat at every opportunity which is that the US global military empire is anti-American and US troops must come home from everywhere, I read a chilling column from our friend Phil Giraldi entitled, "Sanctioning Away Free Speech: Americans Meet With Iranians at Their Peril."

In the piece, Phil points out that, in its "maximum pressure" policy against Iran, the US government is not satisfied putting sanctions on anything that moves in that country. Washington, just like Moscow circa 1950, also wants to punish any American who dares question this policy. That is why Americans seeking to participate in a forum organized by an Iranian NGO were approached in advance by FBI agents and warned that any participants in the conference might be subject to arrest upon return to the US because that Iranian NGO is under sanctions.

Phil quotes someone who was thus approached by the FBI: "They're interpreting the regulations to say that even if you associate with someone who has been sanctioned, you are subject to fines and imprisonment. I haven't seen anything in the regulations that allows that, but they've set the bar so low that anyone can be designated."

Americans seeking guidance from the Department of the Treasury's Under Secretary for Terrorism and Financial Intelligence (OFAC) – the government agency responsible for enforcing sanctions – were left with no absolute answers. As Phil pointed out, telling Americans what they are allowed to say and where they are allowed to say it is patently unconstitutional.

However after the conference the US government laid down its chilling rules regarding such events. As Phil writes:Responding to a query by a potential participant, an OFAC employee explained that 'transaction' and 'dealing in transactions,' as those terms are used by OFAC, are broadly construed to include not only monetary dealings or exchanges, but also 'providing any sort of service' and 'non-monetary service,' including giving a presentation at a conference.Speaking out against the US "maximum pressure" campaign on Iran – which has resulted in untold civilian deaths due to sanctions on the import of components to make medicine – opens one up to arrest by the United States government.

Let that sink in.

I know I did…right as I was reflecting my appearance on Iranian television criticizing US foreign policy. Is my vocal opposition to the warhawks determined to incinerate Iranians "providing any sort of service" to Iran?

US foreign policy, consisting of subsidy, sanctions, and war, is a knife to the throat not of foreign recalcitrants, but to our very freedoms and American way of life. It's time to wake up. Washington's neocon-dominated foreign policy establishment does not want to debate us. They want to destroy us.
The more influence we gain the more we are under attack by those who hate and fear the non-interventionist perspective. We've had denial of service attacks on our website, I've been permanently suspended from Twitter for transparently false reasons, there is always a boot on the neck of our distribution on social media. And it's only going to get worse the more the elites are shown to be failures. The more our message grows in popularity the more threatened the warmongers are. Please consider a tax-deductible donation to help us flex our muscles and represent our shared philosophy/ [Google the Ron Paul Institute for Peace and Prosperity website and help Fight Back to save the U.S. Constitution, Sovereignty, Freedom, Americans and Legal Loyal Patriotic Americans]


Daniel McAdams
Executive Director
Ron Paul Institute for Peace and Prosperity – LIKE – FOLLOW – SHARE – COMMENT AT BOTTOM OF PAGE
Rose Colombo wrote the award-winning 5 Star Review book, "Fight Back Legal Abuse," pub. in 2010, and the first person to expose the 3 tier Justice System morphing into the 2 tier justice system and one branch of government under the Obama-Holder-Clinton-Bush-Soros-Regimes. Colombo's second award-winning book and 5 Star Review, Obamacare, Dinosaurs, Rednecks and Radicals is a political satire and a fictional orwellian adventure story about the Redistribution of Wealth and depopulation which she hopes to see turned into an animated movie in the future.